Muker Meadows 18 th June 2022
Grid reference: SD 910983
Leader: Carole Sobkowiak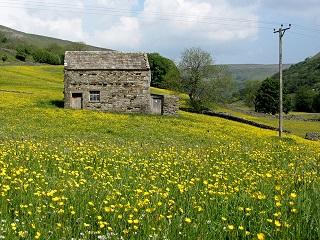 Eleven members visited Muker on a pleasant sunny day.  Muker is an interesting village in Swaledale and takes its name from the Old Norse "Mjor-akr" which means narrow acre.     
The Church of St. Mary the Virgin dates back to 1580. There is a long history behind the Swaledale Woollen industry when the knitting of stockings goes back to the time of Elizabeth 1. Even the lead miners knitted on their long walk to their places of work.  Muker is also famous for its Silver Band which was founded in 1897 to celebrate Queen Victoria's Diamond Jubilee.
The Meadows are actively farmed and some are protected as part of the Muker Meadows Site of Special Scientific Interest (SSSI) and the Northern Pennine Dales Meadows Special Area of Conservation (SAC).
We recorded 70 flowering plants when walking through the meadows that included, yellow rattle. wood cranesbill, bistort, germander speedwell, spring sandwort and melancholy thistle.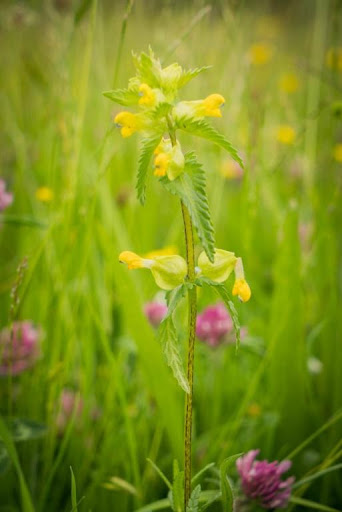 There were some interesting galls  and an especially rare one was found on a wall in the village close to the stream known as the Elm"egg" gall .
After walking through the meadows we crossed over the bridge which is signposted Gunnerside to the right and Keld to the left.  We took the path to Keld where we saw some exciting fossils.
The visit ended with tea in the village.